The Link Between Motion Sickness, Nausea & Eye Muscle Strain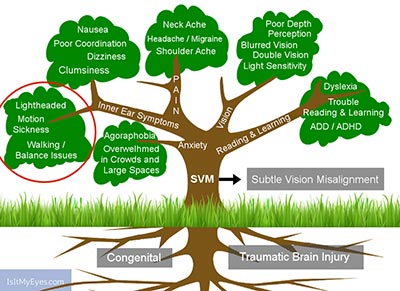 If you frequently experience motion sickness and nausea, you may never have considered the fact that your eyes could be causing these problems. Symptoms such as these are often the result of two common forms of Binocular Vision Dysfunction (BVD) known as Vertical Heterophoria (VH) and Superior Oblique Palsy (SOP). With these conditions, one eye has moved slightly out of alignment with the other, resulting in the images your eyes see being slightly out of position vertically.
The brain rectifies this situation by forcing the eyes back into alignment, which puts a great deal of stress on the eye muscles and causes them to become fatigued and overworked. It is at this point that the symptoms of VH and SOP start to appear. While these symptoms, which include dizziness and nausea, are not those which most people would associate with vision, the relationship is there. Other symptoms of VH and SOP include motion sickness, anxiety, neck pain, headaches and difficulties reading.
Why Is SVM So Often Missed?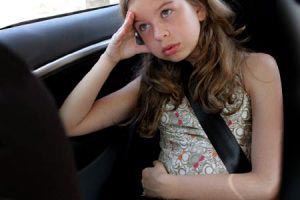 When you visit the optometrist for a standard eye exam, you will be given a series of tests to determine your visual acuity, which is a measure of how well your eyes can see. Rarely is much time spent on evaluating your binocular vision to assess how your eyes perform as a team.
Even when these tests are administered, they are usually only able to discern double vision and serious misalignments of the eyes. Therefore, smaller amounts of misalignment that can cause VH and SOP symptoms end up being missed.
How to Find Out if You Have VH or SOP
If you suspect you might have VH or SOP, take a few minutes to fill out our quick and easy screening questionnaire. A member of our staff will contact you as soon as the results are ready to discuss what the doctors at Vision Specialists of Michigan can do to help relieve your dizziness and nausea, as well as any other symptoms you may be experiencing.
Schedule a NeuroVisual Examination
The team at Vision Specialists of Michigan wants to help you find relief from motion sickness and nausea. Call us at (248)-258-9000 or fill out our screening questionnaire, and you could soon be back to living and enjoying a normal life.