Since 2004, Vision Specialists of Michigan (formerly known as Vision Specialists of Birmingham) has been a trusted group of eye doctors in the area. Dr. Debby Feinberg and six other dedicated optometrists work together to diagnose and treat binocular vision problems in adults and children. We also have the latest technologies in visual health and a large selection of eyewear available for all ages.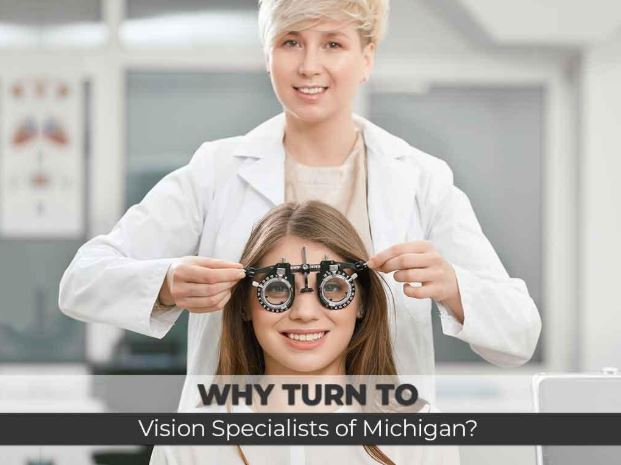 With our commitment to providing quality eye care, our patients found it easy to trust us. We continue to observe the following aspects that make us a great choice for your vision concerns:
Our Reliable NeuroVisual Medicine and Competent Optometrists
Dr. Debby Feinberg has been performing pioneer work in the field of neurovisual medicine. This is an optometric subspecialty that detects and manages medical or neurological symptoms, which stem from vision problems. She has taken binocular vision dysfunction (BVD) diagnosis and treatment to new heights, even devising a questionnaire to easily identify this problem.
We take pride in being the only optometry clinic that can recognize and relieve symptoms caused by subtle vision misalignments. Our eye specialist has two peer-reviewed academic papers published in esteemed medical journals. Combining our knowledge, skills and experience, Hour magazine recognized one of our eye doctors as "Top Doc" last year.
Our Patient-Centered Approach
We believe that the trust built between you and your eye care specialist is the foundation of a great eye care plan. This is why we treat our patients as we would treat our own family. It is also one of our missions to help you recover from your conditions, so you can live the life you were meant to live. You can count on us to provide uninterrupted consultations and prioritize your personal needs when creating your treatment plan.
Our Quality Eye Care Products and Services
Apart from binocular vision therapy, you can count on us for other eye care concerns. We provide comprehensive eye exams to help detect other visual irregularities, such as myopia (nearsightedness), hyperopia (farsightedness) and other refractive errors. We also offer premier blue vision protection. We have an array of quality eyeglasses, contact lenses and even HD specs.
For quality eye care from trusted eye care specialists, turn to Vision Specialists of Michigan. Contact us at (248) 504-2900 to schedule an appointment and experience the difference of working with us in maintaining your visual health. We serve Grand Rapids and nearby MI areas.
---
Please feel free to share on your favorite social platform
---