Vision Specialists of Michigan is the only clinic that recognizes and manages symptoms brought by subtle vision misalignments. In fact, Dr. Debby Feinberg, the practice's co-director, is well-known for her pioneer work in binocular vision dysfunction (BVD), emphasizing vertical heterophoria (VH) and superior oblique palsy (SOP). You can also count on our eye doctors to diagnose and treat refractive errors and other common eye conditions.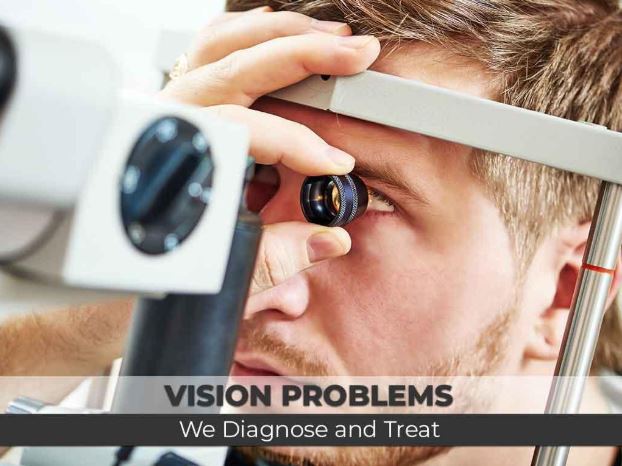 Here are some of the vision problems we diagnose and treat:
Understanding BVD
BVD is any condition where one eye's line of sight differs from the other one's alignment, making it hard for the two eyes to work as a team. It's often passed from generation to generation, which is why it's important to determine if you have any family with the same vision problem. It has two common forms: VH and SOP.
VH happens when there's a subtle difference in height between the two eyes, with one eye appearing to be higher than the other. SOP, on the other hand, occurs when one of the eye muscles, the superior oblique, becomes weak, resulting in eye misalignment. Both BVD types can cause dizziness, headaches and double vision. Performing a binocular vision test can determine whether you have VH, SOP, or other forms of BVD.
Our BVD management mainly focuses on correcting the eye misalignment. To do so, we may add special prism lenses to your eyeglasses. They bend and reposition the light rays that enter your eyes, slightly shifting the image to compensate for your uneven eyes.
Other Vision Problems We Diagnose and Treat
Apart from providing BVD treatment, we also diagnose and manage refractive errors. This includes myopia (nearsightedness) and hyperopia (farsightedness). We have a large selection of eyeglasses and contact lenses for your improved visual acuity. We offer blue vision protection options that lower your risk of having digital eye strain.
For more information about the eye conditions we diagnose and treat, contact us at (248) 504-2900. We proudly serve residents in Detroit and the surrounding Michigan communities.
---
Please feel free to share on your favorite social platform
---