YOUR CHILD MIGHT HAVE BINOCULAR VISION DYSFUNCTION
Children suffering from Binocular Vision Dysfunction have a small amount of vision misalignment not found on routine eye exams. This condition can be something you are born with that becomes a problem over time. Or it can be caused a concussion or traumatic brain injury, such as a soccer/football game, cheerleading or falling from a bike. The number and severity of symptoms are different for each child. For some, it really impacts their quality of life, causing many restrictions on what they can do.
Browse by the Common
Symptoms of Binocular Vision Dysfunction
Common Behaviors and Symptoms for Children with BVD: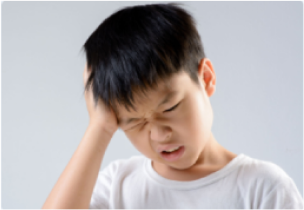 Ages 4-8 years old
Poor handwriting (poor spacing, writing letters too big or small)
Difficulty reading
Avoiding activities
Playing with toys very close to their face
Sitting close to the TV
Difficulty identifying shapes, colors and numbers that are age-appropriate
Difficulty seeing the class board
Frequently bumping into objects
Difficulty catching balls
Stomach aches and headaches at school or away from home
Light sensitivity
Covering one eye to see
Anxiety in public places
Frequent squinting in order to see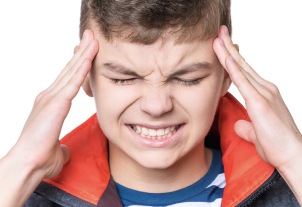 Ages 9-13 years old
Repeatedly bumping into things while walking
Having difficulty completing homework due to headaches and nausea
Repeatedly reading the same things over and over / difficulty with reading comprehension
Sensitivity to bright lights
Closing one eye to make it easier to see
Blurred vision when using the computer
Blurred vision or tired eyes when looking at the blackboard in class/li>
Verbal skills that are ahead of reading skills
Frequent blinking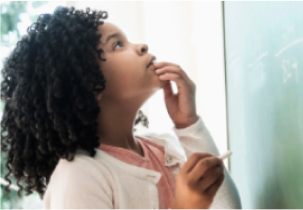 14 years and older
Headaches
Difficulty reading and learning
Problems focusing in school and at home
Dizziness
Sensitivity to light
Difficulty with balance / unsteady walking
Pain in the neck
Frequent head tilt
OUR BVD TREATMENT CHANGES CHILDRENS' LIVES
Watch our Patients Tell Their Stories
How VSofM can help children with reading problems:
Riley's Binocular Vision Dysfunction Story
Trouble with Reading at School:
Avi's Binocular Vision Dysfunction Story
Is This How Everyone Else Sees?:
David's Binocular Vision Dysfunction Story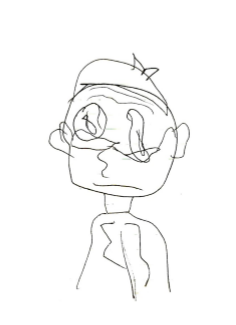 Before BVD Exam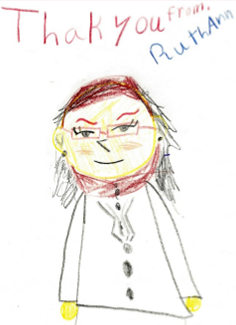 After her Exam, with her
new aligning lenses
WHAT IF YOUR CHILD
THINKS THIS IS NORMAL?
Meet RuthAnn
Seven-year old RuthAnn was having difficulty reading and paying attention in school. When she visited Vision Specialists of Michigan, she was asked to draw a picture of her doctor prior to her exam (image on left). Ruth has Binocular Vision Dysfunction and was able to receive help from our NeuroVisual Specialists. After her exam, RuthAnn drew the picture on the right of her doctor while wearing her new prescription.
Find out if your child is struggling with BVD
Our Patients and their Parents Say it Best
Chris' Concussion
"Chris hit his head when he fell off of his bike two years ago and hasn't been the same since. He had been getting headaches frequently, and was nauseous a lot. He was clumsy and uncoordinated. He used to be a good reader, but after his concussion he read slowly and had trouble concentrating, which made homework a struggle for him. In spite of all of his hard work, his grades had fallen. The new glasses with the aligning lenses prescribed by his doctor have made an unbelievable difference in all of these problems!"
Father of Chris, 9 years old
Jessica's Headaches
"My daughter had headaches so bad she missed a lot of school. Some days all she could do was to lie in a dark room and sleep. Her pediatrician and neurologist tried a number of medications, but nothing really seemed to work. CAT scans, MRI's and all of the other tests didn't find the problem, but the doctors at Vision Specialists did. She has subtle eye misalignment, and her new glasses with specialized aligning lenses corrected it. Now Jessica rarely has bad headaches and almost never misses school."
Mother of Jessica, 13 years old
Sammy's Trouble Focusing
"I've had trouble sitting still in school since first grade. I've been told I have ADD/ADHD and a 'learning disability'. Medications and other treatments really don't seem to help much. Before I started using my new glasses with the specialized lenses , I had difficulty concentrating, and reading was hard for me to do. I was a very slow reader – I had to read the same paragraph two or three times to understand it. My teachers thought I was lazy because I seemed smarter than my test scores."
hello world
Sammy, 17 years old
Chris' Concussion
"Chris hit his head when he fell off of his bike two years ago and hasn't been the same since. He had been getting headaches frequently, and was nauseous a lot. He was clumsy and uncoordinated. He used to be a good reader, but after his concussion he read slowly and had trouble concentrating, which made homework a struggle for him. In spite of all of his hard work, his grades had fallen. The new glasses with the aligning lenses prescribed by his doctor have made an unbelievable difference in all of these problems!"
Father of Chris, 9 years old
Jessica's Headaches
"My daughter had headaches so bad she missed a lot of school. Some days all she could do was to lie in a dark room and sleep. Her pediatrician and neurologist tried a number of medications, but nothing really seemed to work. CAT scans, MRI's and all of the other tests didn't find the problem, but the doctors at Vision Specialists did. She has subtle eye misalignment, and her new glasses with specialized aligning lenses corrected it. Now Jessica rarely has bad headaches and almost never misses school."
Mother of Jessica, 13 years old
Sammy's Trouble Focusing
"I've had trouble sitting still in school since first grade. I've been told I have ADD/ADHD and a 'learning disability'. Medications and other treatments really don't seem to help much. Before I started using my new glasses with the specialized lenses , I had difficulty concentrating, and reading was hard for me to do. I was a very slow reader – I had to read the same paragraph two or three times to understand it. My teachers thought I was lazy because I seemed smarter than my test scores."
hello world
Sammy, 17 years old