ADHD is a neurodevelopmental disorder that is often associated with having trouble focusing. But another common symptom of ADHD is headaches. And an increasing amount of research is indicating that having ADHD can make you more likely to experience a migraine, and that your age and gender can also play a significant role in whether or not you experience these headaches. 
But what if the cause of your ADHD and headache symptoms is actually your eyes? In this article, we'll explain what ADHD is, the common symptoms associated with it, how migraines and ADHD can co-occur, and how a condition known as Binocular Vision Dysfunction might be to blame.
What is ADHD?
ADHD, also known as Attention-Deficit/Hyperactivity Disorder, is a chronic condition including attention difficulty, hyperactivity, and impulsiveness. Children and adults who have ADHD have normal intelligence. 
There are three types of ADHD: 
Inattentive Only: This occurs when the individual has difficulty paying attention. 
Hyperactive and Impulsive: This type usually involves the individual having hyperactivity and impulsive behavior. The result is typically disruptive. 
Combined Inattentive, Hyperactive, and Impulsive: A person with this type of ADHD will have difficulty focusing and also be hyperactive.
Regardless of which type of ADHD a person has, they can still experience ADHD and migraines. 
Symptoms of ADHD
Common symptoms associated with ADHD include:
Headaches

Difficulty with reading

Difficulty focusing

Trouble sitting still or focusing during work or class

Performing poorly on tests, despite knowing the material

Developing anxiety about work and assignments

Becoming tired from work, school and assignments
A Study: Does ADHD Cause Headaches?
Most ADHD research has been conducted on children. However, to learn more about the relationship between ADHD and headaches in adults, researchers from the Danish Headache Center and the Institute of Biological Psychiatry conducted the Danish Blood Donor Study, which included data from 26,456 participants between 2015 and 2017. Their findings were that there is a strong correlation between ADHD and migraines, specifically in adults ages 45 to 55 years-old. The findings also suggested that it's possible the ADHD symptoms change over time. 
Prior to the study, it was often believed the migraines people with ADHD were experiencing were typically a result of medication side effects. And while this can still occur, the study suggested that the connection between ADHD and migraines could be a cause of genetics or other factors not involving medication side effects.
ADHD Headaches: Why Do ADHD and Headaches Co-Occur?
Headaches are a common symptom of ADHD. However, studies are indicating that women might be more likely to experience headaches with their ADHD. The following are some potential causes of this co-occurrence: 
Hormonal Fluctuations: Women experiencing menopause have their estrogen levels drop, which sometimes causes ADHD symptoms to worsen. Additionally, research is indicating that women who are menstruating (and therefore experiencing a change in hormonal levels) also tend to experience intensified ADHD symptoms. 
Genetic Factors: It's believed that genetic factors could potentially play a role in whether or not someone with ADHD experiences headaches. 
Dopamine Levels: Some research indicates that an individual's dopamine levels might contribute to their headaches. Currently, drugs used to treat ADHD also increase dopamine levels, which has helped individuals see an increased ability to focus. However, more research is needed on this topic to fully understand the role dopamine levels might play.
Medications: Medications prescribed to address the symptoms of ADHD can sometimes have side effects that cause headaches. 
Mental Health: Stress levels and anxiety can affect a person with ADHD and either consciously or subconsciously affect their behavior, leading to headaches.
Concussions: It's believed that because individuals with ADHD are sometimes more impulsive than others, this puts them at a higher risk of concussions. Concussions can produce headaches for days or weeks (or sometimes longer) after they occur. However, for individuals who have explored the above and tried different treatments without any luck, your headaches and ADHD symptoms could be a result of a condition known as Binocular Vision Dysfunction.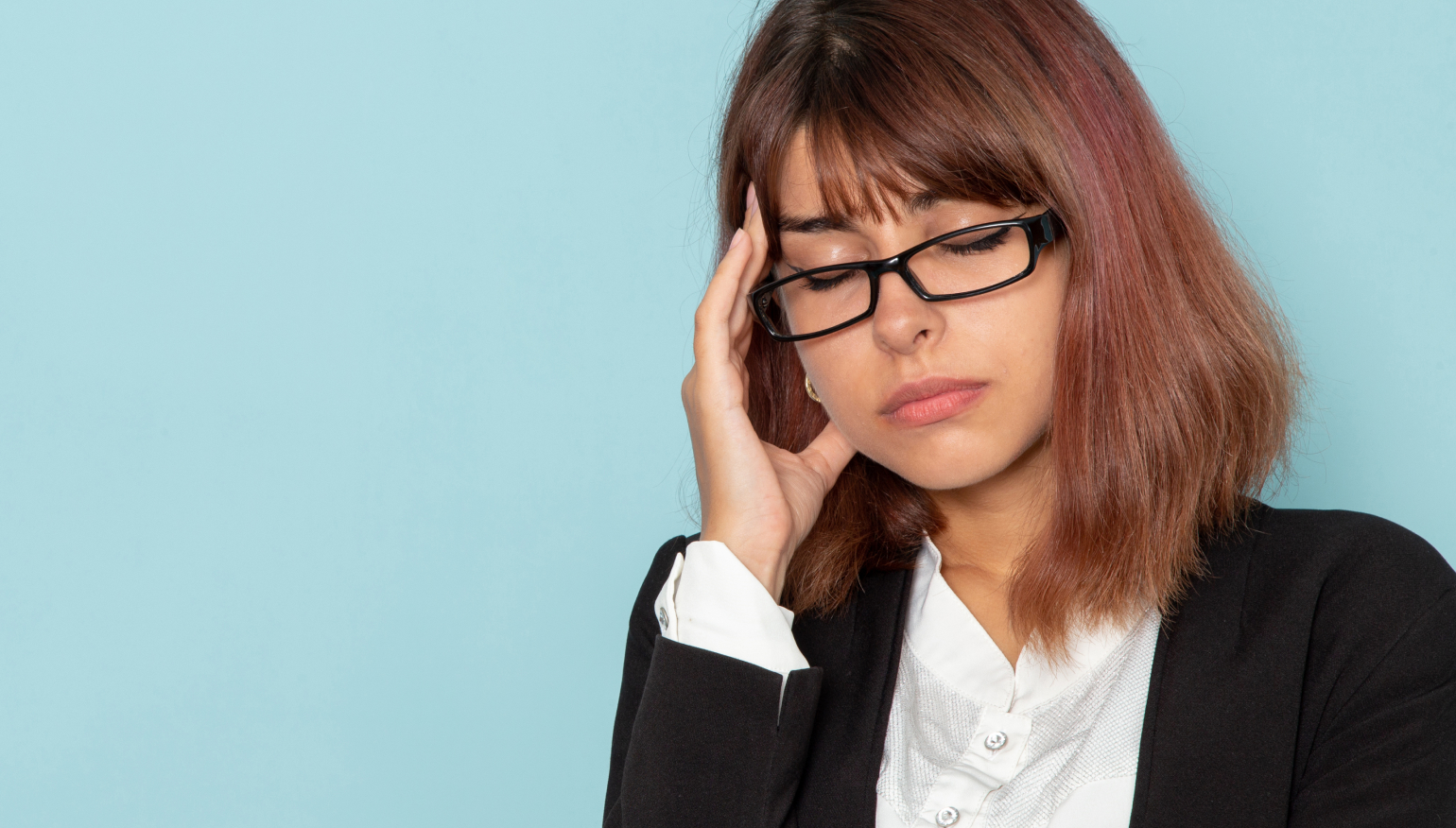 What is Binocular Vision Dysfunction?
Binocular Vision Dysfunction, also known as BVD, occurs when our eyes are slightly misaligned and can lead to symptoms commonly confused with ADHD.
BVD is the result of a slight misalignment between our eyes. While this misalignment can be very subtle, it can make it incredibly difficult for our eyes to send one clear image to our brain. 
Here's what happens when someone has BVD: With two eyes, we are able to see one clear image. This is because our brain is able to transform the images seen by each eye into a single image, which is known as binocular vision. 
In patients with BVD, there is a slight misalignment between their eyes resulting in their eyes being out of sync with one another, causing the brain to have a very difficult time processing those two separate images to form one clear image. 
The result? The brain forces the eye aligning muscles to fix the problem by realigning the eyes. But the realignment is only temporary and misalignment then recurs, which is followed closely by realignment, and the cycle of misalignment and realignment continues. Over time, this places an immense amount of strain on the eye muscles and leads to headaches, an inability to focus, and a variety of other symptoms similar to ADHD.
What our patients say
This place saved me from becoming disabled due to chronic dizziness. After praying for healing, I found their ad during an internet search, and took the BVD quiz. Still not completely convinced I should drive 3 hours from Ohio, Dr. Debby was extraordinary in sending me multiple evaluations and working with me over the phone to make sure it would be a valuable use of my time. After being fitted with prism glasses
Read More
Bonnie B
I have been coming here for 10+ years, long before they were in this location. I was suffering from chronic headaches and neck pain. They found that I needed prisms and thanks to their expertise, those issues are a thing of the past. I appreciate the professionalism of the doctors & the staff and the layout of their spacious and relaxing office and sitting area provides both a comfortable and private environment.
Laurelle J
My neurovisual specialist is the best in the business. They specialize in eye conditions and give the most thorough eye exam. You will be at your appointment for an hour or two, but you will leave with an understanding of what is truly going on with your eyes. My glasses from their office changed my life. If you are having difficulty with balance, headaches, dizziness, eye pain, neck or back pain, make an appointment.
Carolyn Z
Husband: NeuroVisual Medicine has been such a blessing to my recovery. After sustaining a traumatic brain injury, I had trouble with my vision, balance, and pain in my shoulders, neck, and head. Through my doctor's help, I have seen such improvements. I am thankful for the innovative ideas they have to help me. My other eye doctor said I didn't need glasses and the testing, they also didn't care about my dizziness, double vision, lack of concentration, and daily headaches. I look forward to continuing my journey of recovery with my newest glasses.
Cheryl W
I am so incredibly thankful a friend recommended I go to a Neurovisual specialist a few years ago! Even though I'm fairly knowledgeable about medical conditions related to traumatic brain injury, I had never heard of Binocular Vision Dysfunction and was absolutely blown away at my first appointment! My headaches, nausea, balance, coordination, and anxiety have all drastically improved since being diagnosed and prescribed prism lenses!Read More
Amber C
All the staff are so loving and kind, and genuinely want to help people. Dr. Sandi did a super thorough job examining me to reach a conclusion about my specific issues. What a difference addressing my simple misalignment has made! Adding prisms to my lenses was key to reducing or even eliminating many of my symptoms. I feel so relieved and appreciative that I found this solution on my own through some deep online research and a quick survey.
C Lynny
I was in an automobile accident and sustained broken neck and brain stem injuries. After 1 1/2 years of dizziness and daily headaches, my neurologist referred me to a NeuroVisual Specialist. I was seen by Dr. Jen and she has been super. I was given prism glasses and sunglasses and a recommendation for noise-canceling headphones.… The headaches virtually disappeared immediately from wearing the glasses and the steadiness on my feet has improved over time. This week I had my 2-year checkup and will be eliminating the sun-blocking tint as the light and noise sensitivity has improved greatly. Thank you Dr. Jen and Vision Specialists.
Robert Mclane
Dr. MaryJo understands developmental vision care and the complexities of the vestibular system in a way few other professionals do. Following head injuries, she was able to support my son and me in regaining normal functioning, from reading to safe driving, reduction of headaches and anxiety. She has also helped some of my students, who were told to not need glasses by other eye care professionals.Read More
Mel B
After trying my new prescription in the test frame, I could see differences immediately.
Donald
I was about to be put into a special education class because I was having so many learning problems. That was ten years ago. These lenses changed everything, really! The headaches disappeared. Reading was so much easier and I could figure out my homework.
Kali
I'm not tired when I read now. School is not as hard, and I have more fun. My glasses make everything better.
Justin
Watch the lastest video testimonials
Through a Patient's Eyes:
It Just Makes Me Feel Smarter and Better
Symptoms of BVD
The symptoms of BVD tend to be very similar to the symptoms associated with ADHD (including headaches). 
Common Symptoms for Adults and Children 14+ with Binocular Vision Dysfunction
The following is a list of common symptoms in adults with BVD: 
Difficulty with balance / unsteady walking

Pain in the neck

Frequent head tilt

Difficulty reading and learning
Are your symptoms caused by BVD?
Symptoms of BVD in Children Ages 4 to 8-years-old
Poor handwriting (poor spacing, writing letters too big or small)
Difficulty reading
Avoiding activities
Playing with toys very close to their face
Sitting close to the TV
Difficulty identifying shapes, colors, and numbers that are age-appropriate
Difficulty seeing the class board

Frequently bumping into objects
Difficulty catching balls
Stomach aches and headaches at school or away from home
Light sensitivity
Covering one eye to see
Anxiety in public places
Frequent squinting in order to see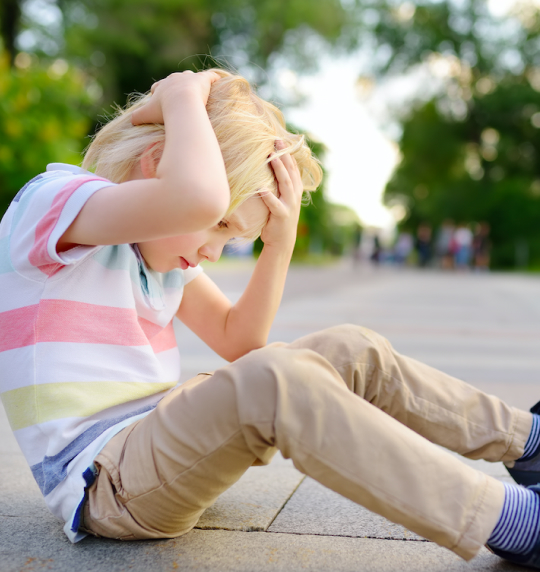 Find out if your 4 to 8-year-old is experiencing symptoms due to Binocular Vision Dysfunction
Symptoms of BVD in Children Ages 9 to 13-years-old
Repeatedly bumping into things while walking
Having difficulty completing homework due to headache and nausea
Repeatedly reading the same things over and over
Sensitivity to bright lights

Closing one eye to make it easier to see
Blurred vision when using the computer
Blurred vision or tired eyes when looking at the blackboard in class
Verbal skills that are ahead of reading skills
Frequent blinking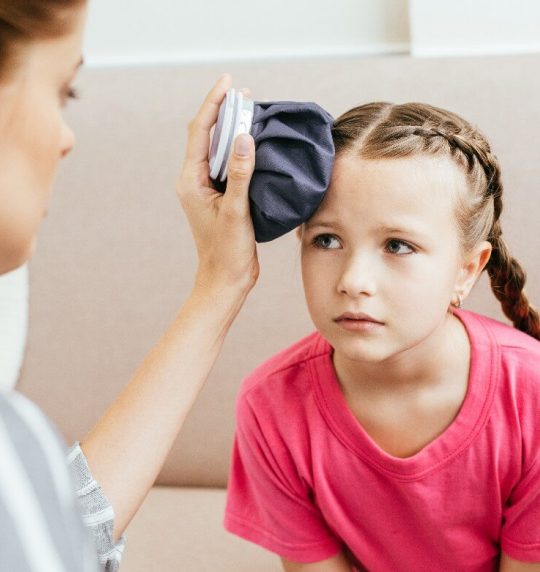 Find out if your 9 to 13-year-old is experiencing symptoms due to Binocular Vision Dysfunction:
How Do You Fix BVD?
BVD is treated by correcting the eye misalignment using microprism lenses. These glasses bend light in a way that the images seen by your eyes are moved into the position they need to be in, resulting in realigned images. When the images seen by your two eyes are realigned, your brain can easily transform them into one, singular image. Your headaches and other uncomfortable symptoms caused by BVD are significantly reduced or eliminated.
In fact, the average patient will notice a 50% reduction of symptoms by the end of their first visit. Over the next several visits, our team at Vision Specialists of Michigan will fine-tune your lenses so that your headache, nausea, and other BVD symptoms can continue to improve and be eliminated.
Diagnosing BVD
In order to determine if your headaches and ADHD symptoms are a result of BVD, we recommend you visit your primary care physician or a specialist to rule out other causes. If no cause is found for the symptoms, our team at Vision Specialists of Michigan can help determine if BVD is the issue.
During your visit:
We ask you to fill out a specialized questionnaire designed to screen for those who might have BVD.
You will be asked to complete a detailed Health History form.
An eye exam is performed to determine the need for correction of nearsightedness, farsightedness, and astigmatism (a common imperfection in the eye's curvature).
A specialized exam is performed (NeuroVisual Examination) to determine if visual misalignment is present.
If diagnosed with BVD, you will be fitted with a trial version of their new prescription. Most people notice a significant improvement in their symptoms within just a few minutes of putting on the trial lenses.
You can expect to spend approximately 3 hours in our office during your visit.
Get Treatment for Your ADHD and Headaches
If you or a loved one have been diagnosed with ADHD and are experiencing headaches or other symptoms mentioned above, contact our team at Vision Specialists of Michigan. If BVD is causing your visual symptoms, our microprism lenses just might be the solution you need.
Get treatment today.
TAKE THE TEST